The More You Know, the Better
The more you know about diabetes medicines, the better you will be able to work with your health care provider to choose the treatment plan that best meets your needs. The American Diabetes Association's most recent guidelines recommend treatment plans that are based on each person's individual needs. That's why your health care provider may want you to be as involved in the process as possible. And why you should spend some time learning all you can about managing type 2 diabetes at Cornerstones4Care®, your source for information, education, and inspiration.


To help manage your type 2 diabetes, it's important to maintain an active lifestyle. Regular exercise can help prevent health problems, help keep your weight down, and help insulin work better to lower your blood sugar levels. Even little things like walking in place while watching TV can make a difference.


For everyone, healthy eating should be an important part of life. But for people with diabetes, it plays a big part in managing blood sugar. Your diabetes care team can help you create a delicious meal plan designed to help you achieve your goals. But keep in mind that it's important to eat a variety of healthy foods, including plenty of vegetables, whole grains, fruits, beans, lean meats, poultry, and fish. Here are healthy recipes your whole family will love.


Dealing with your diabetes can be stressful. And unfortunately, stress can affect your blood sugar and insulin levels. So it's no surprise that learning to manage stress may help you keep your blood sugar under control. It's important to look out for signals of unusual stress so that you can begin to find ways to cope with it.


Here are some suggestions for dealing with stress:
Stay active. It can improve your blood sugar levels as well as your mood.
Be positive. Avoid negative thoughts by concentrating on things that you enjoy.
Laugh. It may lower blood pressure and reduce stress hormones.
Practice yoga. It can help you feel calm.
Get plenty of sleep. Sleep loss may lead to weight gain and may interfere with your body's ability to respond to insulin.


Staying active shouldn't be a chore. Find activities you enjoy so you'll have fun while helping your health. If you're not used to being physically active, start slow and easy. Try walking the dog, or spending some time in the garden. Once you feel more comfortable, you can try different activities, like joining a group or class. And always speak with your health care provider before starting any kind of fitness routine.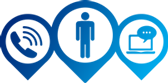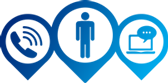 Novo Nordisk is committed to your success. That's why we offer a free, personalized diabetes support program called Cornerstones4Care®. Sign up now to get resources that can help you manage your diabetes your way, including:
Helpful videos
Healthy and delicious recipes
The Meal Planning Tool
Tracking tools




Live, one-on-one support from a Certified Diabetes Educator (CDE). If you choose, you can use one-way video chat and screen-sharing technology that lets you see your CDE (but he or she will never be able to see you).