Dosing Schedule for the Ozempic® Pen That Delivers 0.25 mg or 0.5 mg, Once Weekly
Ozempic® is taken once a week, exactly as prescribed by your health care provider.
The beginning dose is 0.25 mg once a week for the first 4 weeks. This will help give your body a chance to get used to the medicine.
At Week 5, your health care provider will increase the dose to 0.5 mg once a week.
If, after at least 4 weeks on the 0.5 mg dose, additional blood sugar control is still needed, your health care provider may increase the dose to 1 mg once a week. There is a separate pen for this dose and you will need a new prescription. The maximum dose of Ozempic® is 1 mg once a week.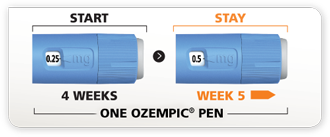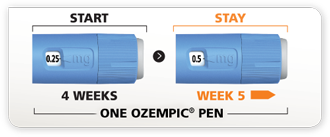 You can take Ozempic® with or without food. Before long, taking Ozempic® on the same day every week will become a regular habit.
Some people choose a day of the week that makes it easy for them to remember to take Ozempic® on the same day every week. For example, some may take it every Sunday night as they prepare for the week ahead.
You may change the day of the week you use Ozempic® as long as your last dose was taken 2 or more days before.
But make sure your prescription doesn't run out! You want your medicine to be there when you need it.


Take the missed dose as soon as possible within 5 days after the missed dose. If more than 5 days have passed, skip the missed dose and take your next dose on the regularly scheduled day.
For more information about Ozempic®, see the Medication Guide or talk to your health care provider.





Simply click on the link above. When the window opens, choose the day and time you want to take Ozempic® every week, and the calendar you use. If your dosing schedule changes, be sure to update your calendar!