If you're used to taking a diabetes pill, you may have concerns about starting injections. Many people do. So it may help to know that the non-insulin Ozempic® pen comes with NovoFine® Plus 4 mm 32G needles—the shortest and thinnest needle available from Novo Nordisk. It's as thin as 2 human hairs!
Take Ozempic® once a week, on the same day, exactly as prescribed by your health care provider.
You can take Ozempic® with or without food.
You may change the day of the week you use Ozempic® as long as your last dose was taken 2 or more days before.
If you miss a dose of Ozempic®, take the missed dose as soon as possible within 5 days after the missed dose. If more than 5 days have passed, skip the missed dose and take your next dose on the regularly scheduled day.
Using the pen, Ozempic® is injected under the skin of your

abdomen

,

thigh

, or

upper arm

. Do not inject into a muscle or vein.
Change (rotate) your injection site with each injection. Do not use the same site for each injection. If you choose to inject in the same area, always use a different spot in that area.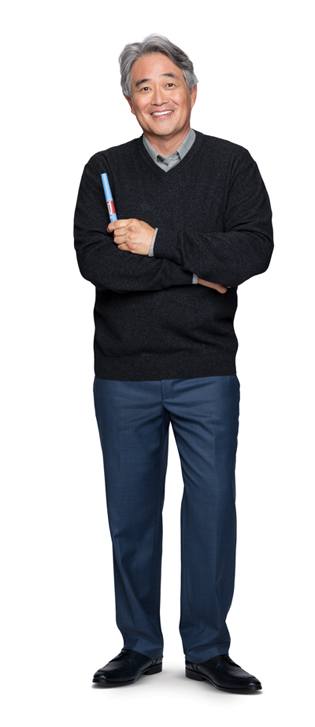 You may be used to putting things like certain foods in the fridge AFTER they've been opened, but with Ozempic® you have options once it's in use:
Keep your new, unused Ozempic® pens refrigerated at 36˚F to 46˚F UNTIL you use them.
When the pen is in use, you can store it at room temperature (below 86˚F). Or, if you prefer, you can continue to keep it in the fridge (at 36˚F to 46˚F).
The Ozempic® pen you are using should be thrown away after 56 days, even if it still has Ozempic® in it.
Do not freeze Ozempic®, and do not use it if it has been frozen.
Keep Ozempic® away from excessive heat and out of the light.
Keep the pen cap on when not in use. Never store Ozempic® with a needle attached.
Keep it wherever you keep your other medicines.
And take it with you when you're on the go.